Help Me Grow—Southeast Michigan: Increasing Screening Rates with ASQ Online
Help Me Grow is a collaborative system with a critical mission: to identify children at risk for delays and help families find the right services for their child. Across the country, Help Me Grow builds cross-system collaboration, physician and community outreach, centralized call centers, and an extensive data system that identifies gaps in its services. One of the major objectives of Help Me Grow is to promote regular developmental screening with tools like ASQ®, an important step toward connecting young children with the services they need to thrive.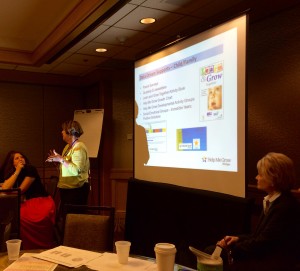 Help Me Grow's mission is catching on nationwide; 28 states have already become HMG affiliates. Michigan is one of them. Here's why they chose ASQ® Online to meet their screening and data management needs—and how the system helped them meet their goals.
Why HMG chose ASQ Online
At the core of Help Me Grow (HMG) SE Michigan is a partnership of the Great Start Collaborative of Wayne, Macomb, and Oakland Counties. The goal of this project is to ensure universal screening for all young children in Southeast Michigan through promotion, prevention, and early identification. For this approach to work effectively, the HMG SE Michigan team needed to coordinate screenings with multiple partner sites and create a comprehensive data integration system.
Before they launched their initiative, they studied the book Developmental Screening in Your Community as a primer on project development. They consulted with author Diane Bricker (also a co-developer of ASQ) about their community-based system—and came away with great ideas on how to launch an effective universal and integrated systems approach.
To accomplish their objectives, the team was drawn to ASQ Online, a user-friendly system for data management and online questionnaire completion. The validity and reliability of ASQ was a big benefit, and they appreciated the fact that ASQ was a parent-completed measure.
They chose the ASQ® Enterprise option, which is tailored to the needs of programs with multiple sites. The Enterprise system would help them coordinate screenings with all of their partner sites, easily manage their data, and allow parents to complete questionnaires online through ASQ® Family Access.
HMG SE Michigan receives financial support through the Michigan Office of Great Start and two generous grants from United Way of Southeastern Michigan (UWSEM). Both funders are committed to building early childhood systems and increasing children's school readiness.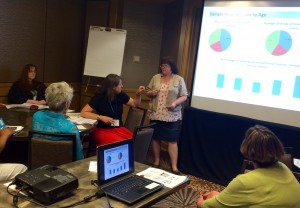 What happened next?
The HMG SE Michigan/ASQ Online relationship began with an initial pilot in Oakland County with seven partner sites. More Michigan counties joined over the next few years. ASQ Online was a key part of their comprehensive services, which included:
Free online developmental screening with ASQ®-3 and ASQ®:SE
Child development information and support for families of young children
Care coordination, referral, and follow-up services
Customized template letters to parents detailing screening results and what they mean
Activities for each developmental domain to increase positive interaction and developmental promotion
Today, this highly successful project has tallied over 100,000 completed ASQ-3 and ASQ:SE online screenings over the six counties in the region. This makes HMG SE Michigan one of the largest ASQ Online screeners in the nation!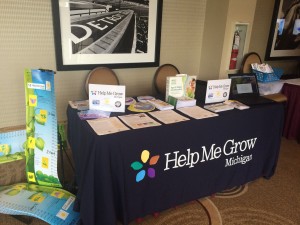 According to Jeffrey Miles, Social Innovation Fund Manager of United Way of Southeastern Michigan, "the ability to identify with one tool, by developmental domain, a child's and community's developmental strengths and potential risks is an incredible asset to an organization like ours. HMG SE Michigan's regional development readiness data is proving to be vital in elevating developmental readiness as part of broader community assessments, inform our overall early childhood strategy, and communicate the importance of our early childhood work to a broad group of stakeholders."
How ASQ Online Benefits HMG
ASQ Online was instrumental in helping HMG SE Michigan reach their important goals, including:
Identifying children with developmental concerns and connecting them to further evaluation and community resources
Helping families understand, document, and maintain their child's developmental history
Encouraging professionals who work with young children to use screening as a first indicator of potential developmental delay
Building community data that can be used for future planning and advocacy efforts
The two components of ASQ Online—Enterprise and Family Access—worked together perfectly to benefit HMG SE Michigan. Here's how:
ASQ Enterprise
Through ASQ Enterprise, HMG SE Michigan was able to create and manage child and program data, store child profile records and results, and provide an automated summary and analysis of results. ASQ Enterprise provided a comprehensive data integration system across multiple counties and gave HMG SE Michigan superb data on children's development status and trajectory. Now the team could easily access varying levels of data by program, building, age group, community, and countywide. Enterprise users also appreciated the convenient age calculator, interval selection, and automated scoring and the generation of summary sheets.
ASQ Family Access
ASQ Family Access helped HMG SE Michigan give parents an easy way to complete developmental screening questionnaires. Having an online questionnaire option increased the efficiency and cost-effectiveness of ASQ: it reduced copying and mailing costs, saving both money and time. Best of all, parents loved it.
Responses to a 2013 Help Me Grow survey show how receptive parents were to ASQ Family Access:
"This screening is a great tool for parents to use."
"I liked this questionnaire. The questions made me more knowledgeable about my son's development. He's our first child, so it's great to see he's on track!"
"I have been very pleased with this tool as well as the follow-up. I recommend it to everyone I know with children."
The ASQ-3 Learning Activities available through Family Access proved to be valuable resources for parents, helping them enhance the growth and development of their young children between screenings. HMG SE Michigan also found ASQ Family Access to be an excellent platform for distributing additional family engagement activities, including quarterly e-newsletters, Learn and Grow Together activity books, a Help Me Grow growth chart, and five-week parent/child developmental activity groups.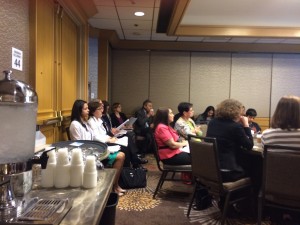 How HMG Analyzes Data
HMG SE Michigan was drawn to ASQ Online because of the ease of data management among multiple partner sites. For a program that collaborates with more than 417 community partners, data collection and evaluation is an integral component of HMG SE Michigan's success.
HMG SE Michigan partners with The Department of Sociology, Anthropology, Social Work, and Criminal Justice at Oakland University to lead the comprehensive data analysis and evaluation processes for the universal screening project. The team at Oakland University is instrumental in program design, quarterly reporting, publishing findings, and delivering state and national conference presentations. Oakland University evaluates HMG SE Michigan in making sure the program operates by its original plan. The information provided by Oakland University is further used to improve the HMG SE Michigan program.
Dr. Kevin Corcoran, Dean of the College of Arts and Sciences at Oakland University, states "the ASQ/Help Me Grow Collaboration is exactly the kind of work we encourage here at Oakland University. Partnering with our community to address critically important needs utilizes our campus talents in service of our region."
***
In just five years of project operations, HMG SE Michigan saw massive growth in the number of completed developmental screenings—from 2,300 screens in 2010 to over 100,000 cumulative screens (and counting!) in 2020.
ASQ Online has been the cornerstone of the team's success, and they look forward to many more years of using ASQ to help all of Michigan's children get the best start in life.