Who Uses ASQ?

Professionals who need a reliable screening system that's easy to implement.
Professionals working with young children have busy, unpredictable days—they need tools they can rely on. ASQ® is the result of nearly 40 years of research: every aspect and feature has been designed to support professionals' busy routines and to dovetail with daily processes and activities.
With its parent-friendly design and flexibility in administration, ASQ works in the entire range of settings where young children are served—from child care centers to public health fairs. ASQ is designed for early childhood educators, pediatricians, interventionists, and more:
Early Childhood Education Programs
Pediatric Offices
Across the country, more programs choose ASQ over all other developmental and social-emotional screeners!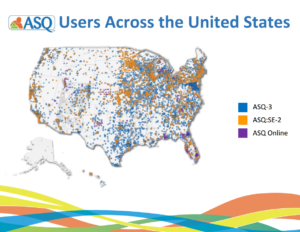 Nurse Practitioners
Nurses
Office Staff
Early Intervention Programs
Occupational therapists
Physical therapists
Speech-language pathologists
State and Local Organizations
First 5 County Commissions (California)
Help Me Grow
Public Health
More
Family members