Web-based screening options for pediatric practices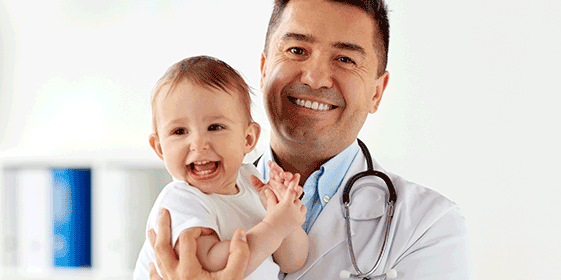 In addition to ASQ® Online, ASQ® questionnaires are available through PTI and CHADIS, two web-based systems designed specifically for pediatric practices.
ASQ PTI
Improved efficiencies for pediatric practices: ASQ PTI.
ASQ Patient Tools® (PTI) is a family of apps that allows a health care practice to implement a seamless electronic screening system. PTI will save time, streamline workflow, and ensure the ASQ process is as error-proof as possible with exciting features designed to meet the specific needs of pediatric practices and health care systems:
ASQ PTI is a paperless screening option for pediatric practices that makes it even easier for parents to complete questionnaires pre-visit or in offices.
Download your PTI quick reference guide
Flexible administration options. Now parents can complete ASQ questionnaires based on a pre-determined schedule, prior to the visit (online from home) or in pediatric office via a computer or tablet.
Easy, automated parent interview, with built-in onscreen prompts and optional audio tracks that help families with low literacy skills respond accurately.
Inclusion of ASQ in comprehensive interviews with other pediatric tools, such as EPDS, M-CHAT, Vanderbilt (ADHD), PSC, CRAFFT, and more. Enable parents to complete ALL the tools needed before a visit and have the data stored conveniently in one system.
Secure and confidential automatic scoring. Whether collected online or in pediatric offices, responses are automatically scored and a report generated within seconds.
Options with PTI Data Exchange for integrating assessment data with your electronic health record (EHR) system (additional costs may apply).
Automated generation of chart ready, real-time reports, such as an extended Information Summary report, which includes a "red flags" section to help detect areas of concern and a "status over time" section that shows trends in a child's development.
More languages for working effectively with diverse families. Both ASQ®-3 is available in English, Spanish, Somali, and Hmong. ASQ®:SE-2 is available in English and Spanish, and Somali and Hmong will be coming soon.
FREE telephone and live remote support included with your subscription.
---
CHADIS
Improved efficiencies for pediatric practices: ASQ PTI. Pediatric screening, scoring, support and more. 
Designed exclusively for use in pediatric practices, CHADIS®, the Child Health and Development Interactive System, is a comprehensive web-based screening, diagnosis, and management system that administers and analyzes pre-visit, online questionnaires. CHADIS offers:
convenient web-based ASQ questionnaire completion
automatic questionnaire scoring
time-based graphical displays
report generation
links to decision support information
support for billing of insurance payment for developmental screening
Parents can complete the ASQ-3 and ASQ:SE-2 on a computer, touch screen tablet, or smart phone anywhere internet access is available. Learn more about how CHADIS helps clinicians address parents' concerns about their child's development and streamlines other routines of pediatric care.
How does CHADIS work?
CHADIS delivers the doctor's pre-selected questionnaires and families complete them online at home or in the waiting room
CHADIS collects all the answers, and automatically scores and tabulates them in an user-friendly electronic worksheet
CHADIS presents provisional diagnoses and links to decision-support information based on the responses
CHADIS selects informational handouts and community resources specific to the child and family needs
CHADIS captures additional Clinician comments and information during the office visit
CHADIS stores all visit data, creating a full record that can be copied into EMRs for referrals, billing, positive screen registry and patient diagnoses tracking
Want to learn more about how CHADIS helps clinicians address parents' concerns about their child's development and streamlines other routines of pediatric care? Learn more about CHADIS
What ASQ Users are Saying

"ASQ-3 has helped make our staff and our families more aware of developmentally appropriate growth and development. The resources that come with the ASQ-3 have been instrumental for parents to provide school readiness activities at home and to understand the objectives that we cover in our plans."

Jessica Trail, Head of Faculty & Administration, The Young School